Lazy Sunday Brunch
After a late Saturday night out at our friend's farewell drinks we stumbled out of bed fashionably late and feeling famish. This Sunday we wanted to check out a brunch spot in our neighbourhood in Asoke called Indulge. Thankfully they serve brunch menu till 4pm, perfect for a lazy Sunday!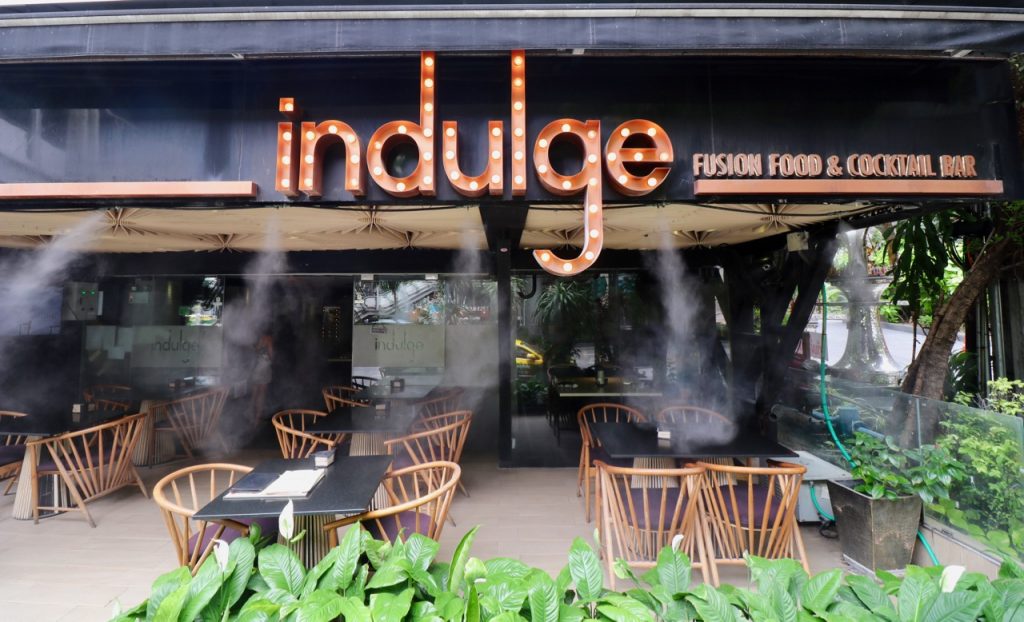 Great Location at Sukhumvit Suites (Asoke)
Indulge is very well located at Asoke intersection on the ground floor of Sukhumvit Suites hotel, which is easily accessed by BTS and MRT. We drove past many times and thought it looks like a good spot for an evening drinks but only discovered recently that they also serve up a great brunch selection too.
Chill-out Weekend Vibe
We were greeted by a soft house music playing in the background, which immediately put us in a chill-out Sunday mood. There are both indoor and outdoor seating areas to choose from. This time we chose to sit outside as it was not too hot and they also have a mist generator, which makes it quite pleasant to sit outside. The outdoor area is built on a raised platform decorated with green plants, adding a touch of that urban lushness. It's a great spot for people watching in this lively urban neighbourhood.
Family-run Place with TLC
During our visit we had a chance to talk to the lovely owner couple, Nick and Dee. They were very passionate about serving great quality food to their customers and pride themselves in selecting good ingredients in their menu. Their daughter has crafted the menu, having studied in Switzerland at a renown hospitality school. You can really feel the love and care they put into little details in their homemade items; like their home recipe chili sauce, marmalade and all their freshly baked pastries.
Great Brunch Selection at Indulge
We were impressed by the brunch selection which contains some old favourites as well as some creative fusion dishes. We ordered the Full Breakfast Set and the Red Shakshuka. This is accompanied by freshly squeezed orange juice and ABC (apple beetroot carrot cold pressed juice). We love cold pressed juice!
The shakshuka sauce was very rich in flavour and eggs were cooked just right on the hot skillet pan (not too hard or too runny). This is served with their house-made brioche. All pastries here are freshly baked daily. The Full Breakfast set came with a pastry basket complete with homemade marmalade, which was equally satisfying.
To round it off we ordered a Salted Caramel Banana Pancake for dessert. We don't always order sweet dishes but this time we couldn't resist. The pancake batter was light and fluffy. This goes perfectly well with the the vanilla ice-cream and the salted caramel. A divine combination!
Overall we felt that brunch at Indulge was indeed an indulgent experience. And we would recommend checking this place out for a relaxing brunch after a rough night before 🙂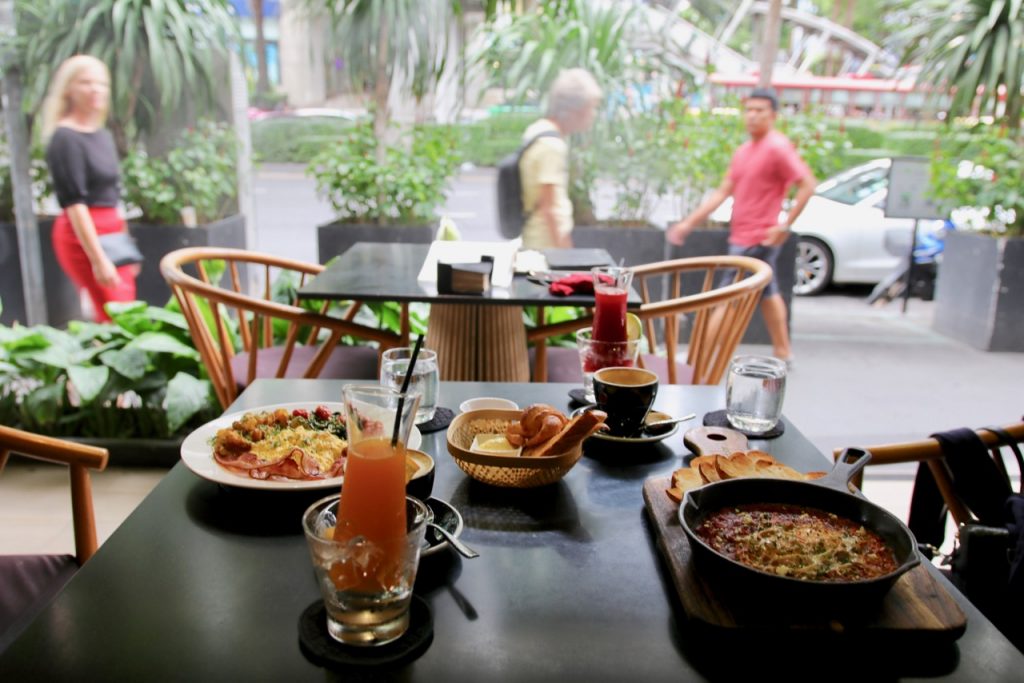 Check out more photos and their brunch menu in our gallery section and let us know how you've enjoyed your experience at Indulge.
Comments
comments