Brasserie Europa at Kempinski Siam
Black & White Sunday Brunch
This Sunday we were excited to attend the launch of Kempinski's brand new Black & White Sunday Brunch at Brasserie Europa. Kempinski's PR Manager Khun Linda explained that the concept behind Black and White Sunday Brunch came from the Caviar tasting (Black) and the free flow of Blanc de Blancs Champagne (White), a truly classy combination. Brunch starts at 12:30pm and finishes at 4pm, the long hours will give you plenty of time to relax and leisurely enjoy the gourmet experience. Perfect for a long lazy Sunday afternoon with friends and family.
Extravagance Worthy of Audrey Hepburn
Brunch at the Kempinski is certainly a luxurious affair. From the moment you enter the hotel's grand lobby through to Brasserie Europa where the brunch is held. The high ceiling and opulent furniture compliments well with the elegant theme.
The dining area is filled with beautiful decorative items, and carefully curated food displays. The crowds here were equally beautiful and sophisticated; from social media influencers, food critics and socialites; and of course us, Bangkok Brunch Blog 😉
We felt like we were in a movie set from Breakfast at Tiffany's (but with brunch instead of breakfast here), with all the glitz and glamour of the Belle Époque era. The waiters were dressed in formal attires and there was even a magician to keep the guests entertained.
Champagne and Caviar
The food quality along with the selection is one of the most impressive we've seen from similar style hotel brunch in Bangkok. All the items presented are of the highest quality and there is no shortage of them. As soon as we were seated, we were welcomed with a glass of Louis Roederer's Blanc de Blancs and a beautiful gift box with a little cake in it.
Lobster bisque was served as our first course, which tasted rich and creamy. This was shortly followed by a caviar tasting. There are two ways of serving the Caviar here: You could opt for the traditional way where you eat it off your hand, or from a little pearl spoon. A shot of Vodka was offered to round off the tasting nicely.
Gourmet Experience
Our gourmet experience continued with a mobile live cooking presentation. Today, the special items were freshly made ragout pasta prepared inside a parmesan cheese wheel. The other special item was Moules Marinière (steamed mussels with cream, garlic, parsley and white wine sauce).
We tried one of each, and both dishes were delightful. So far, we didn't have to leave the table and yet we have already been served many gourmet items already.
Extensive Selection
In addition to the very extensive buffet line, we were given choices of a la carte items, of which we could order as many as we liked. Premium items like Wagyu Medalion, Seared Fois Gras, Steamed Snow Fish, Hokkaido Scallops and Lamb Cutlets. What really stood out was the beef tartar with all the condiments, individually prepared to your liking.
Seafood lovers will not be disappointed with an array of fresh sashimi, steamed crabs and crayfish along with fresh oysters, just to name a few of the yums ready to be loaded on your plate. It deserves a special mention that the Thai seafood sauce is very authentic here and goes brilliantly with all the fresh seafood.
A la Carte Experience
From the a la carte selection we ordered Wagyu Beef Medallion and Seared Fois Gras. Both dishes were cooked to perfection and the meat was tender and juicy. The portion served was small but of course, you can order as many as you like. Besides, you would want to reserve some of your stomach space to sample all of the other goodies on offer.
For pre-dessert, there is a great selection of cheese from Comte, Parmesan to Roquefort, not many Swiss cheese though. And if you still have some space left in your stomach you will want to check out their dessert section. If not then you still have plenty of time to enjoy your champagne and music while you make room for desserts. If you're a big fan of chocolate like us, then you will be in for a big treat. Everything imaginable chocolate, from chocolate fountain to chocolate cake (one of the richest tasting chocolate cake we've had) to chocolate macarons. Everything was of course beautifully presented in a perfect miniature bite size.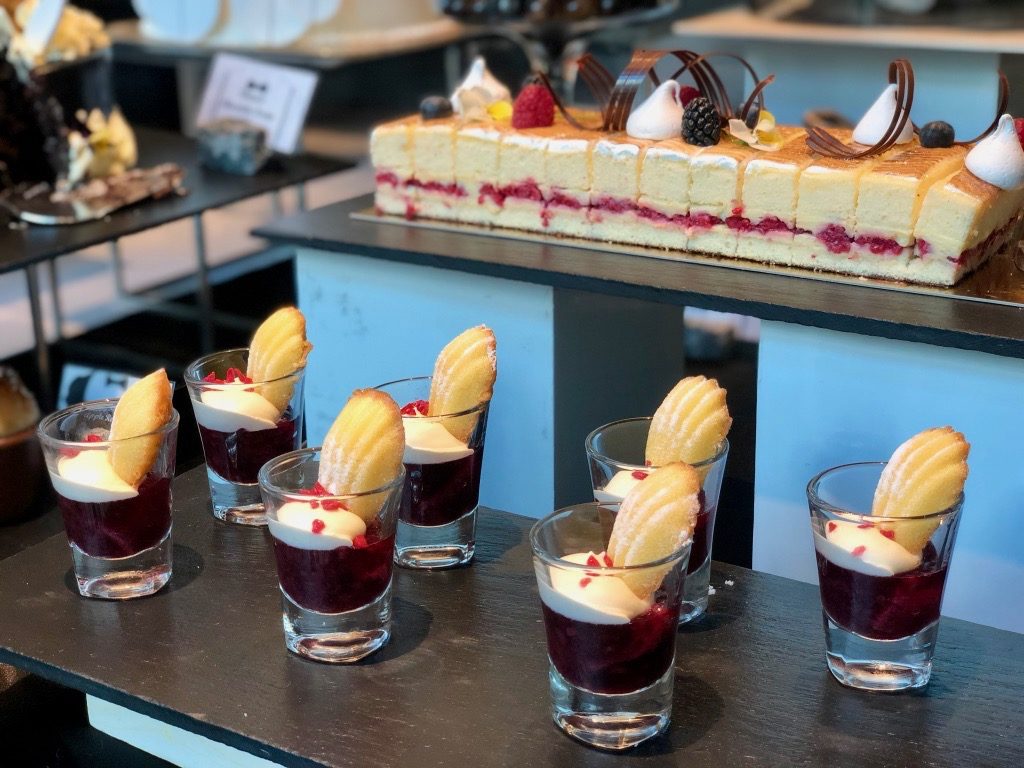 Sumptuous Sunday Brunch
We've spent an entire afternoon there until 4pm and felt completely relaxed and satisfied at the end of the meal. The whole thing felt more like a gourmet experience rather than our usual every weekend brunch affair. The experience certainly does not come cheap, but you get really high-quality food to match the luxurious ambience of the Kempinski. So every once in a while, it is certainly nice to treat yourself to such a gastronomic brunch experience. It's perfect for a special occasion brunch with friends and family, where you can spend the whole afternoon relaxing in a luxurious surrounding while enjoying the amazing food on offer here without rushing.
Check out more photos and their brunch menu in our gallery section and let us know in the comments and by rating (above) how you've enjoyed your experience at Brasserie Europa at the Kempinski.
If you'd like us to review your brunch place or have any recommendations for great places for brunch, please feel free to reach us on our Facebook Page 
Bangkok Brunch Blog
.
Comments
comments